Recipe
Guava Glazed Lamb Ribs
Guava Glazed Lamb Ribs
Serves: 4-6
Packed with bright, tropical flavors, this exotic South African fruit is the dream addition to any chef's kitchen. Guava Reál is an impeccably convenient and high-quality syrup that makes it a unique culinary ingredient for at the ready use.
This is the main event, and Reàl can play a supporting role or be the star of several savory creations.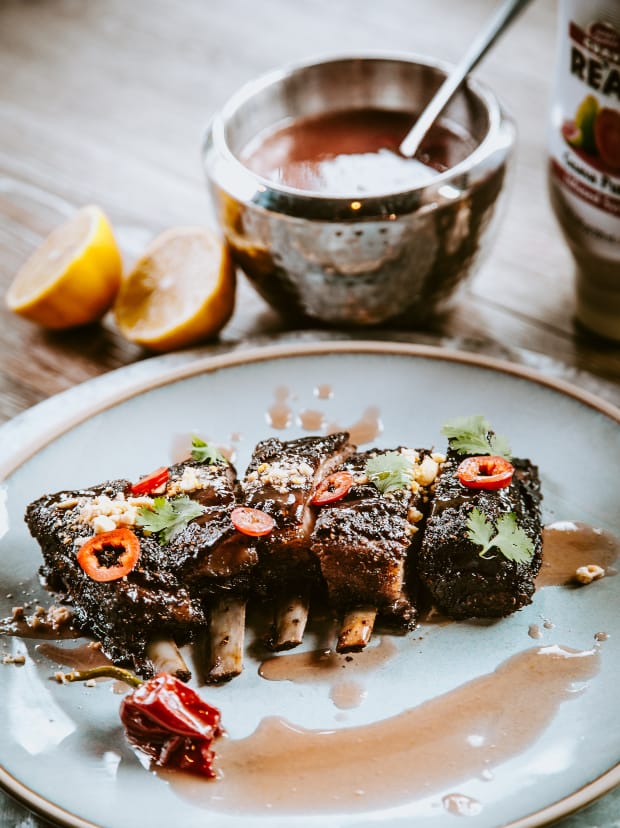 Ingredients
1 container Guava Reàl
1 Tablespoon Dijon mustard
1 Tablespoon salt
1 Tablespoon minced fresh ginger
¼ cup white wine vinegar
Juice of 1 lemon
Grated zest of 1 lemon
TK lamb ribs
Directions
Combine all ingredients except juice and zest of lemon and the lamb.
Bring to a boil and then immediately lower to a simmer. Simmer for 5 minutes while stirring.
*This glaze is also tasty with pork or chicken.
Featured Product
Guava Reàl
Guava Reál is bursting with the bright, tropical flavor of the South African fruit. It's bold pink color and mellow sweetness pairs equally well with other tropical flavor and unexpected savory counterparts, such as cheeses.