Recipe
Crispy Sweet Potatoes
Crispy Sweet Potatoes
Serves: 4-6
In Pumpkin Reàl, Dickinson, Autumn, and Buckskin pumpkins are pureed with cinnamon, ginger, nutmeg and clove to bring chefs the taste of fall year-round. Its convenience paired with its pure, quality flavors makes it a must-have ingredient for all culinary connoisseurs.
This is the main event, and Reàl can play a supporting role or be the star of several savory creations.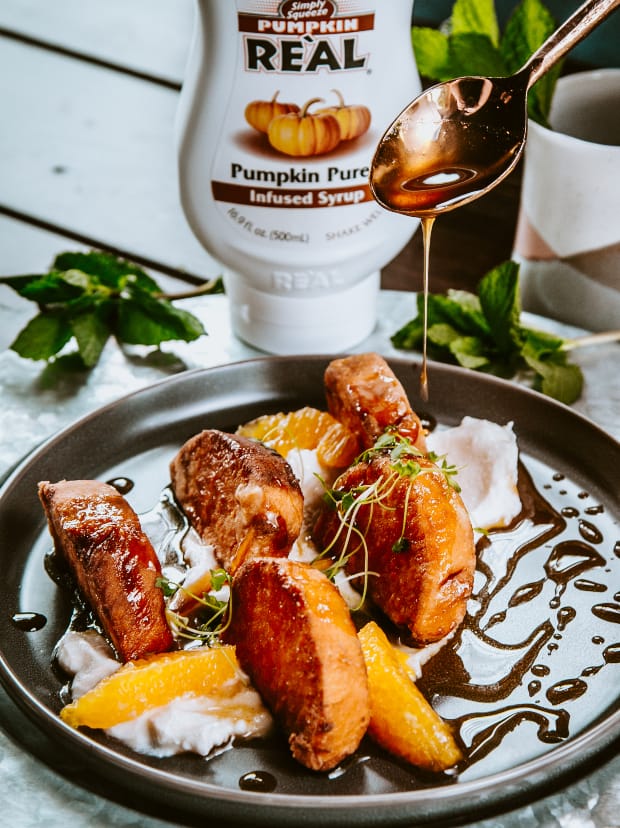 Ingredients
1 cup Pumpkin Reàl
1/4 cup pure maple syrup
1 Tablespoon apple cider
1 teaspoon salt
1 teaspoon freshly ground pepper 
2 sweet potatoes
1 orange
2 cups rice flour
3 cups canola oil
TK ricotta cheese
Macadamia nuts, for garnish
Directions
Preheat the oven to 400ªF. Mix Pumpkin Reàl, maple syrup, apple cider, salt, and pepper together and refrigerate. 
Meanwhile, roast sweet potatoes for 45 minutes. Cool completely in refrigerator. 
Peel the orange and remove supremes (fruit between membrane) with a sharp knife.
Slice chilled sweet potatoes, and toss in rice flour. 
Heat the oil in a pot over medium-high heat to 350ªF. Fry the sweet potato slices for about 2 minutes, until crispy. 
Divide ricotta among serving plates, then set sweet potatoes on top. Drizzle with Pumpkin Reàl–maple glaze. Arrange orange supremes on top and sprinkle with macadamias.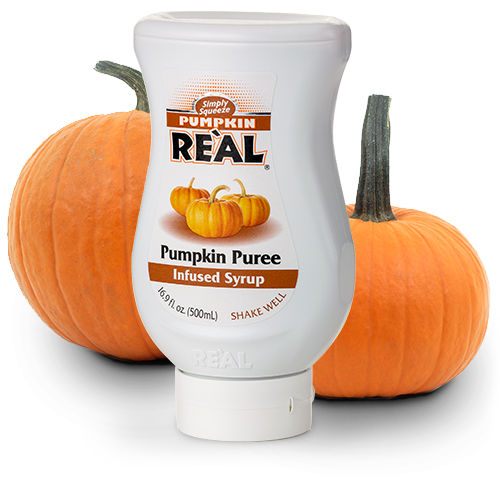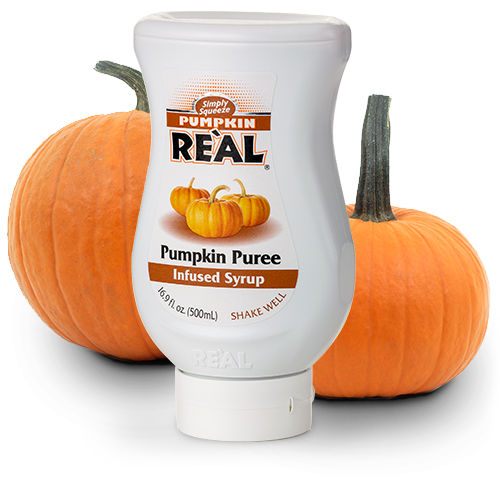 Featured Product
Pumpkin Reàl
Pumpkin Reàl features premium Dickinson, Autumn, and Bucksin pumpkins pureed and paired with cinnamon, ginger, nutmeg and clove. This fall and winter flavor staple lends itself to making mouth-watering dishes, from sweet treats to the perfect Thanksgiving sides!